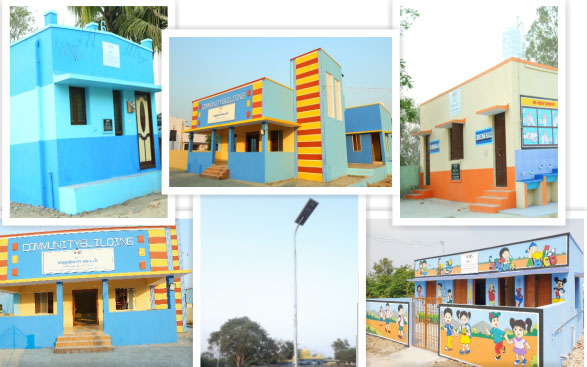 The project aimed at reducing poverty and vulnerabilities of the local communities, especially children and women, and to empower them with an enabling environment for their overall well-being and community development by way of adopting a "sustainable integrated village development model". This 3 years project has successfully completed and envisaged focus on improving ICDS and school infrastructure facilities to create a safe, conducive, supportive, and enabling learning environment, and other infrastructure such as individual household toilets, renovation of ponds, construction of community centre. In addition to the hardware interventions, the project also implemented various activities focused to improve the overall development of women and children by way of imparting capacity-building training for SMCs, life skill education & career guidance to adolescents, vocational skill training & job fair program for youths, entrepreneurial development skill training & IGP support for SHGs, general health camps for village people, awareness generation meetings, summer camps for children, life-skill training, holding sensitization campaign and awareness raising on child rights, child protection, gender equality, water pollution, rainwater harvesting, tree plantation, control of plastic use etc, for improving the lives of women and children at larger level in the villages of Nemili, Mannur and Valarpuram.
The project has made significant progress and successfully reached its completed and all the infrastructures had been handed over to the communities, school management and government officials. From the inception of this project, the REAL team has been building effective relationships with community-based organizations, Local Panchayat, School Management Committee, Women SHG members, School Headmasters and teachers, Education Department, the ICDS department, and donors.
Key Milestones of the project:
15 new pucca houses constructed for vulnerable families in 3 villages
The construction of community hall with compound wall work completed in Feb'22 at Nemili village beneftting 424 families.
Renovation of Ponds – Mannur and Nemili village completed (beautification of pond, painting, flooring, clearing debris) for the utility of communities
Construction of 225 IHT completed in 3 villages to avoid open defecation, thereby promoting health and hygiene.
Model Kitchen constructed at TELC Primary School, Mannur benefitting 40 children enjoy hygienic environment
Renovation activities (tiled roofing, compound wall, headmaster room, painting and flooring etc) undertaken in 2 schools and completed.
Mobis_Project_Short_Completion_ Report
Community_Hall_in_Nemili_completion_report
Dining_Hall_in_Nemili_Completion_Report
ICDS_in_Mannur_Completion_Report
ICDS_in_Valarpuram_Completion_Report
Pond_in_Mannur_Completion_Report
Pond_in_Valarpuram_Completion_Report
Solar_Panel_in_Mannur_Valarpura_and_Nemili_Completion_Report