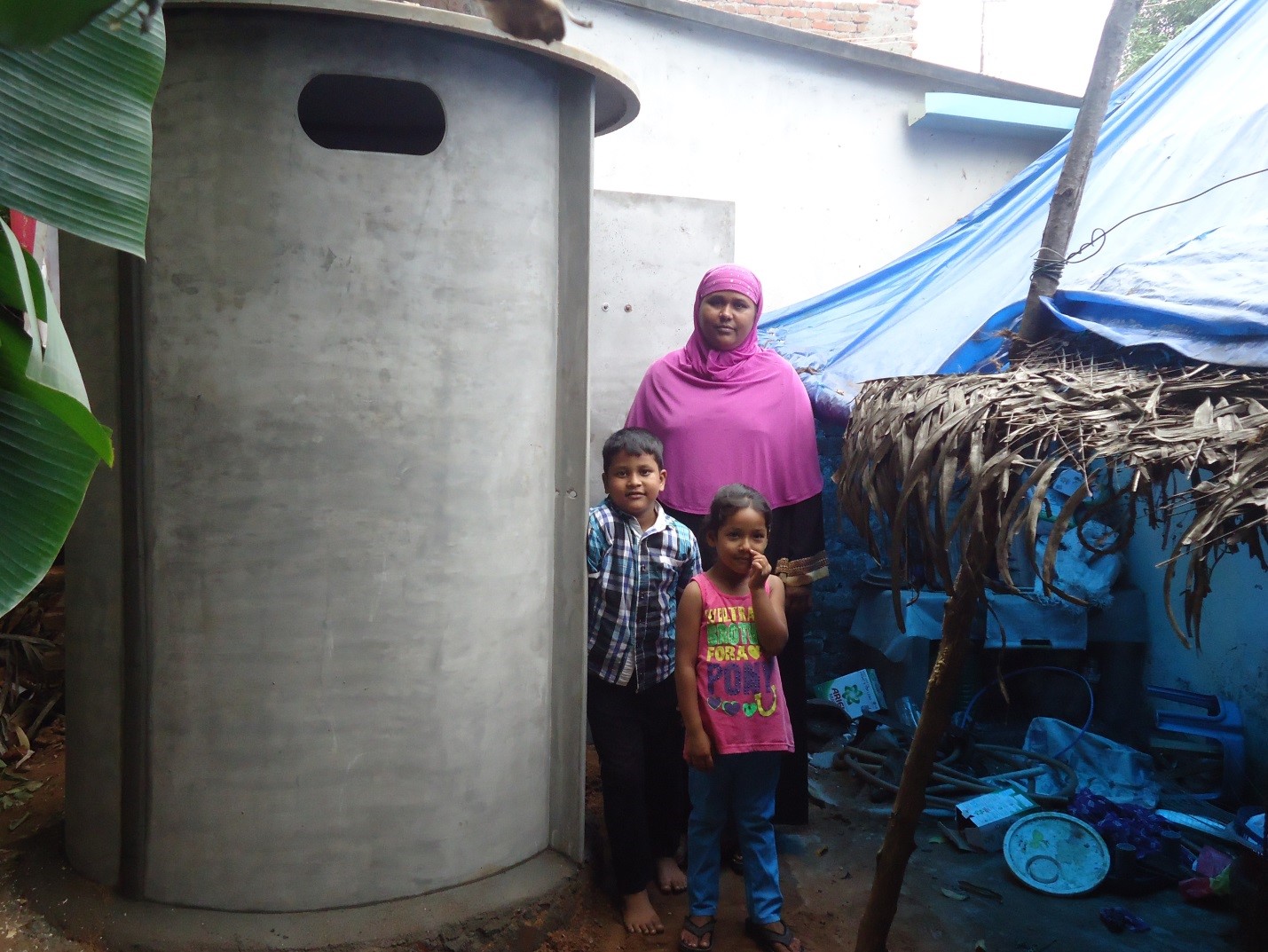 I hailed from Vellore in Tamil nadu and married Harin Moosa in 1994 and moved to Pondicherry in 1995 due to family problems. I had two younger brothers and two daughters. My father had worked as assistant in a Mutton Shop and my mother was a house wife. Due to the low economic position of our family, myself and my sisters got married and our husbands also belonged to a Below Poverty Line family from Tiruchirappalli.
My first son was born in 1996 and my daughter in 2010. I had studies up to 8th STD. My husband's income from daily labour at Kottaikuppam and was the only source for running the family.  We had been living in a rented thatched hut for the past 10 years. With the meager income we were unable to maintain the family with two children and our dream of having our own house became a real dream.
I had been a member of the SHG under REAL and was able to avail a loan of INR.75000 from Valarnithi Federation, Koonimedu. The loan helped me to educate our children and I was able to also help my brother to get trained in Plumbing and Electrical Trade at REAL Training Center.
Due to the savings and the credit availed from REAL facilitated Valarnithi Federation, we were able to purchse a piece of land at Indira Nagar and constructed our own house (a hut with mud walls and coconut thatched roof). At last our dream of owning a house became a reality due to REAL.
The people at Indira nagar started constructing Individual Household toilets at their houses with the subsidy support from Tamil Nadu Government's Total Sanit ation Programme. But we were unable to raise the amount needed for the  construction of the latrine on our own and getting the recommendation for the subsidy was not supported by the local community leaders.
At that juncture, I came to know about the Pre Cast Ferro Cement Sanitation Products offered by REAL with the support of Water for People. I personally went to REALSANMART – Productrion Unit at Koonimedu and saw the Latrine and septic tank display. I was very much impressed with the display, the quality of the ready made sanitation products and also the details from the hand bills provided to me by REAL staff at Koonimedu. The staffs had also explained in detail about the sanitation products at the SHG and Federation meetings.
Since the model was a beautiful one and the cost was less compared to the construction of a ltrine with septic wall, our family decided to purchase Round Latrine model with Water Tank and the square Septic tank. REAL was very helpful in installing the same in time at our house and now we have become the proud owners of a house with cleanliness all around.
Our sincere thanks to REAL and Water for People for making our house a Safe Shelter with Clean and Healthy Environment.