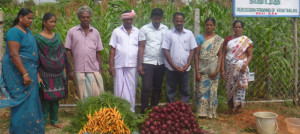 Children in the fishing communities have virtually no opportunity to learn any vocational skill due to the close knit community grouping and their isolation. REAL took the initiative with these communities in trying to bring about better living conditions for the youths through skill training. An initial needs assessment was done with the help of an external consultancy firm to identify the types of vocational skills that could generate decent employment for the youths in the villages. Based on the study, training courses were conducted in the areas such as:
– Motor driving
– Beautician certification
– Two wheeler mechanism
– Catering technology
– Computer skills for office automation
– Electrical and plumbing
– Hollow block and cement concrete works
Training were initiated by professionals in free of cost. Beneficiaries were linked to small business grants and were introduced to potential employers. Many are self-employed. This has generated a considerable amount of income to the families.
Impacts:
· The employment potential of the beneficiaries has increased due to the vocational training.
· Most of the beneficiaries were thinking of starting their own micro enterprises as well as through group activity in the near future, once they could gain credit from the banks with the certificates they have earned through the SJSRY (Swarna Jayanthi Shahari Rozgar Yojana) sponsored training.